EAST AFRICA REGION VIRTUAL EDUCATION FAIR 2021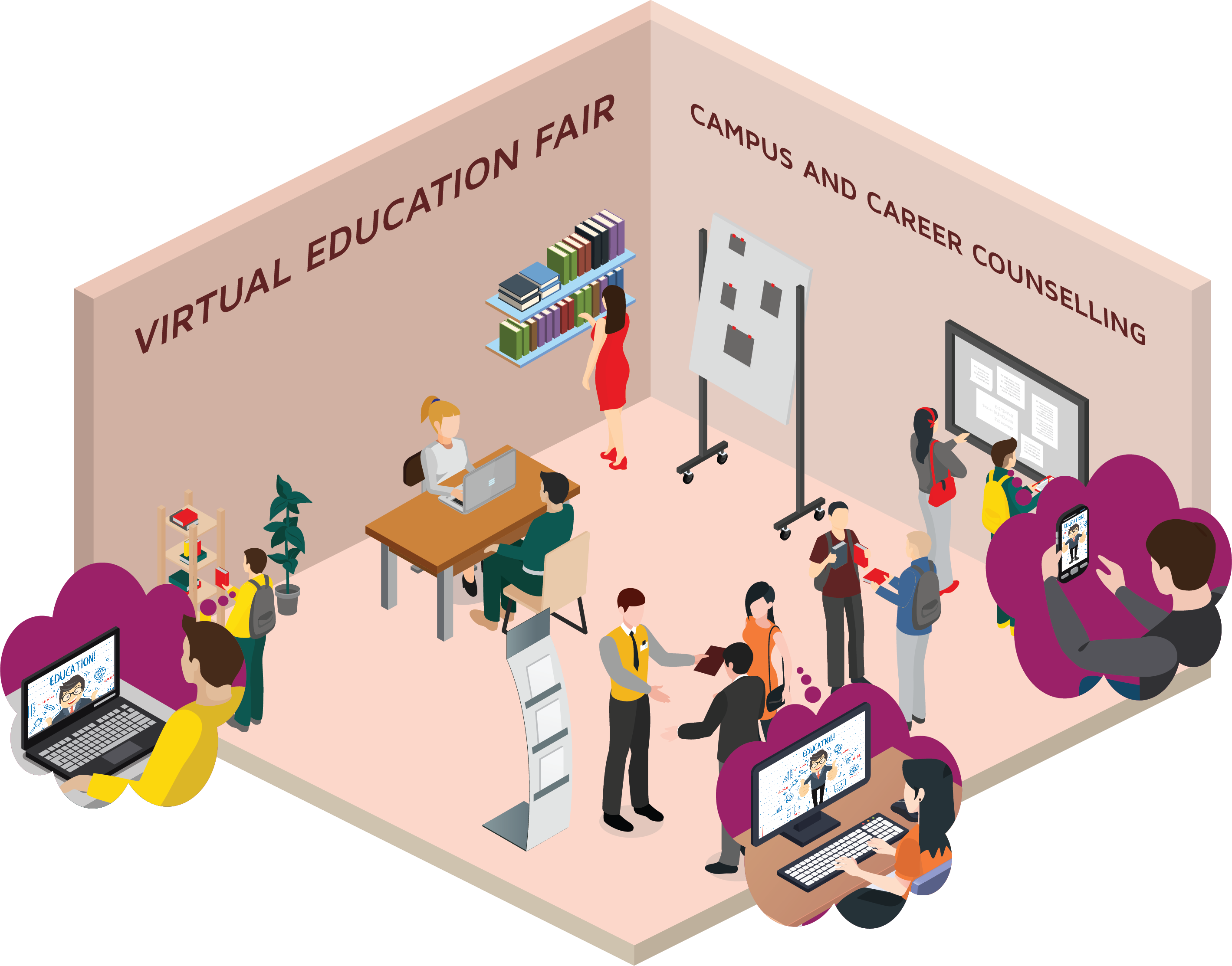 EAST AFRICA REGION VIRTUAL EDUCATION FAIR 2021 is a unique opportunity to meet qualified High schools students, undergraduate & graduate candidates, and decision making family members throughout the most vibrant markets from Ethiopia, Kenya, Madagascar, Mauritius, Rwanda, Tanzania, Uganda. Selective approach of the audience and thorough candidates registration procedure ensure valuable results for participating institutions.
Our Virtual Education Fair connects prospective students with high schools, graduate, and undergraduate candidates, in a virtual environment. You will have the opportunity to chat with prospective students in real-time via WhatsApp, Video Calls, and one-on-one chats. While chatting with the student, you will be able to see the student profile which includes academic background, proposed course of study Immediately after the Virtual Fair, exhibitors have access to the complete profile and contact details of every student that they interacted with and that of student that visited your stand.
Organized by Lekkside Education Fair, it is one of the biggest education event taking place in major cities across West Africa. This occasion enables parents and prospective students who desire international education to meet with delegates of partner Institutions from the UK, USA, UAE, Ireland, Hungary, Poland, Cyprus, Canada, Turkey Sweden, Finland, Malaysia, Singapore, South Africa, New Zealand, Grenada, Guyana, Russia, Australia, France and other countries.
Early Bird Rate for Exhibitors $1,,500
Early bird pricing is available until April 28th 2021. The total price of each registration option will increase by $500 after the deadline.
Lekkside International Education Fair is dedicated to helping institutions recruit prospective students from Ethiopia, Kenya, Madagascar, Mauritius, Rwanda, Tanzania, Uganda.
There are very limited places available from each country for this Fair, so send your request so that we can commence our filtration process and inform you about the decision.
In order to be eligible to exhibit at any of the Fair, the institutions must:
Be a higher education institution recognized by the competent national authority, recognized higher education institutions or a national governmental agency in charge of higher education promotion (governmental agencies may be represented by their embassy in the country where the event is taking place)
Please note We advise all the exhibitors to make a 30-60 second introductory video for you and your school! The video for each school will be posted on our Facebook, Instagram, linked,  Twitter and other social media, ensuring you get maximum exposure.
• Give us some background on your school
• Tell us about your school's vision
• What separates your schools from your competitors?
• Why did you want to participate in the Lekkside virtual education fair 2021?
Registration must be done online here.
For Sponsorship Opportunities:
Please write to Mr. Amson Adeleke on aiamson@educationfair.com.ng to express your interest and receive further information. Call: +234 809 219 3505
The fair brings together World Class colleges and universities across the World.
Universities & Tertiary Institutions
Vocational Training Institutions
Adult and Continuing and Education Consulting
Overseas Boarding Schools
Supplementary Education Institutions
Language and Business Schools
Arts and Design Schools
Study Tours & Summer Camps
The online channels we use for promotion are:
Search engines (google.com) with context ads
Social networks (facebook.com, linkedin.com) with both target ads and posts in relevant communities
Education websites targeted both for students and their parents
Online blogs, web communities
Direct emailing, etc